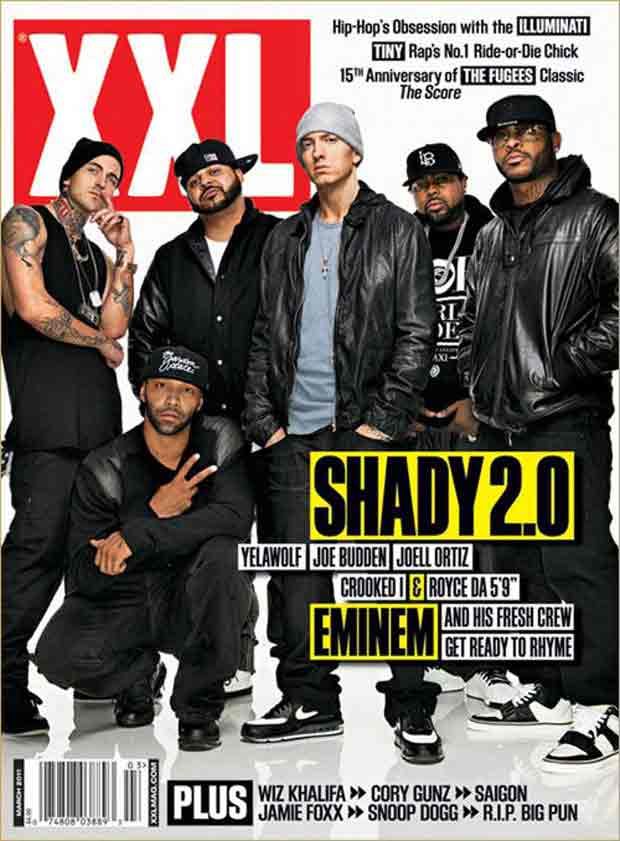 Eminem made waves when he entered the rap game with violent and sexually explicit lyrics, but was soon reaching Number 1 in the charts. Though it's debatable, many would say that he has stayed true to his roots throughout his career. So does he have the potential to bring underground artists into the mainstream on the strength of his co-sign?
Recently it was announced that Yelawolf and Slaughterhouse have been signed to Eminem's label, Shady Records. Both acts are well regarded in the hip hop scene. Yelawolf has been building over the last year. He put out a highly rated mixtape, Trunk Muzik followed by Trunk Muzik 0-60. A tour with Wiz Khalifa ensured his name was known outside of the underground and features with Raekwon and Big Boi served as a nod of approval from the O.G's in the game.
Slaughterhouse is the hip hop super-group made up of Joe Budden, Royce Da 5'9", Crooked I and Joell Ortiz. Their signing to Shady is no surprise due to Royce and Em's long-term partnership. The Detroit MCs first teamed up on wax as the group, Bad Meets Evil years ago before falling out over a line in a freestyle. Though they ceased beefing two years ago, the signing acts as a confirmation that all's good between the pair. It seems one Slaughterhouse member may possess some psychic powers. On his Lemonade freestyle, Joell Ortiz spits, "I'll be here forever, that's why I stood next to Eminem."
If you know Slaughterhouse, you know they don't rap about kittens and rainbows, making it unlikely that their music will be commercially successful. Similarly, Yelawolf's topics range from homelessness and drug addiction to love and parties. But despite their tough nature, both acts have the potential to achieve wider audiences, placing hard lyrics about real subjects in a mainstream arena.
The Shady signings are likely to promote a renewed interest in real rap. The desire for commercial success has led to a watering down of lyrical skill amongst most rappers working today, as they chase the dollars and shun integrity. By signing to Shady Records, these acts will automatically gain the resources needed to spread their music. But instead of "selling out" and turning down a commercial route, they will have the freedom to choose where they wish to place themselves in rap. That's not to say there won't be some party tracks thrown in amongst the grittier subject matter. Royce Da 5'9″ commented on this subject, saying "Em told me 'just do exactly what ya'll did on the first album, and ya'll [will] be fine'." He added, "I'm sure at some point I'm gonna feel like 'Yo, we need either a hit or something radio will get behind."
It's been a while since we've seen Shady Records dominating music as a crew. Many other labels have stepped into the limelight, most significantly Lil' Wayne's Young Money. But by beefing up, they could be preparing to take over the industry.
Who's up next for Shady? There have been whispers that Em might sign his favourite rapper, Redman. Watch this space…
Originally published by SB.TV