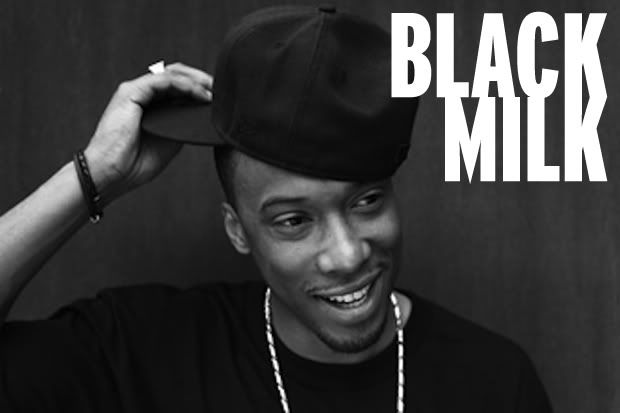 With the anticipation for
Random Axe
growing to a dangerous level,
Black Milk
talks to SB.TV's Editor In Chief,
Lily Mercer
, about the night
Sean Price
fell asleep in his truck, why he'd pick beats over lyrics and how
Black & Brown
led to an EP…
LM. Album of the Year was last year's album of the year. What can we expect from you in 2011?
BM. I got a collaboration album with Guilty Simpson and Sean Price called Random Axe. We put the Random Axe group together 2 or 3 years ago so the album's long overdue. We finally got it done so it will drop on June 14th on Duck Down Records. Sean P and Guilty do their thing on the rhymes and I produced the whole thing. It's just a dope record, all three of us have chemistry together.
LM. How did you guys team up?
BM. It started from Guilty Simpson getting a Sean Price feature for his solo album. My manager Hex Murda hooked that up and after the collab, Hex had the idea that we should do a small project as a group. I was definitely down for it because I've been a big fan of Sean Price for a minute, Sean P was down, Guilty was down. It started off as us doing an EP then it turned into a full album.
LM. Will there be more albums from Random Axe?
BM. I don't know man, we gon' see how this one goes. We don't wanna speak too fast and say 'Yeah we're gonna keep doing Random Axe albums'. This might be the first and the last or we might do a few more after this. Who knows?
LM. Hex Murda is hilarious.
BM. Of course, Hex is crazy.
LM. And so is Sean Price.
BM. Right.
LM. Was recording Random Axe a fun experience?
BM. Yeah, Sean P came to Detroit for a week and dude is a character. For the first two days we didn't get any work done because him and Hex were telling crazy stories, jail and street shit. I'm just sitting on the boards like, 'Can we get some work done?' But it was cool, Sean P finally starts writing some rhymes. It was dope man, he's one of the funniest dudes you'll ever meet. Him and Hex are characters and they're so alike and went through a lot of similar things in their life. It was definitely fun working with Sean P, I've been a fan of his since the early Boot Camp Clik days so it was dope to work with him.
LM. What other funny moments came out of the time you spent recording?
BM. People that are real fans of Sean Price know what kind of personality he has, he was like that times ten around the clock. He doesn't stop talking, he goes on and on, story and story, joke and joke, then all of a sudden he's knocked out snoring on the couch. It took me about ten minutes to get him out my truck one time. We went to the bar, hung out and I was taking him back to his hotel. We got in the car, got to the hotel, then I'm tryna pull this big ass n**** out the car and he's just snoring, he's like 'Leave me alone'. He does crazy shit like that, that's not funny in the moment but the next day I laughed at it.
LM. I can imagine that no one tells Sean Price what to do.
BM. Well I kinda can because he trusts me musically and trusts my ideas, he knows I'm level headed. But yeah, Sean Price is crazy. No one can tell him what to do.
LM. What is it about you, Guilty and Sean that works so well?
BM. Guilty has a totally different style from Sean P in terms of deliverance. Sean has a dope voice, Guilty has a dope voice and of course they have bars. They can rhyme and on top of that they have two different styles of delivery. They're kind of in the same lane but not, that's what made it dope. I didn't even rap on the whole album. I rhymed on four tracks, I threw my voice in there to mix it up a little bit but I focused on producing.
LM. Is it true you're doing a Black & Brown EP with Danny Brown?
BM. We tryna make it happen. Me and Danny Brown we got a studio, we cut a few songs. We tryna make about 4 or 5 tracks and throw Black & Brown from Album of the Year on there. We'll just do a small EP, we're not gonna do a full length one. I'm a fan of Danny Brown, just his voice on the track, he cuts through so crazy and he just has a different style that nobody else is doing out here. Rapping, he has a style that I've never even seen in another artist from Detroit, kind of like a fresh new sound for the D. Because people that's familiar with Detroit music know us for being super lyrical and crazy beats, but Danny is pretty left from the way he dresses to the way his hair is. He has so many different voices, you never know where he's gonna go on the track. I like that we have an artist that can throw shit off guard and be unpredictable.
LM. Growing up in Detroit, did you feel that you were lucky to have grown up with a stable of talented artists you could use on tracks?
BM. I'm lucky cus I'm a producer to come from a city like Detroit. Everyone knows Detroit's music history so that alone is an honour to be a musician from that city. As a music cat, outside of Hip Hop shit, I don't know if I'd wanna be from another city but Detroit. The legacy we made and the things we've done in music are incredible, from the Motown era up until the Hip Hop scene. Not just Hip Hop and Motown but Techno, Electronic, all that stuff. I'm fortunate to be from that place.
LM. It's like a music Mecca.
BM. Definitely, the music from Detroit is rich.
LM. Is it competitive?
BM. There is competition because we know that we're all talented and have skill so everyone represents the city in a certain light. Being from Detroit, we know the history, so that makes us keep our swords sharp. I definitely keep that in mind, I wanna stay consistent and keep putting out good music because I know where I'm from and the expectations people have. I think everybody from Detroit thinks the same way.
LM. You began writing during childhood then moved onto producing. What was it that captured you about production?
BM. When I learnt how to sample from a record into a drum machine sampler or a keyboard sampler it was amazing to me. I was a sponge just thinking about all the possible things I could do with production, sampling and drums. It gave me a bigger love for the production than rapping because there's a lot of different ways you can rap and flow, but with beats it's so wide open. There's way more things you can do when it comes to production and that's why I think my love for production is bigger than MCing. Even though I write songs, if I had to choose one it would definitely be beats.
LM. You're very consistent with your releases.
BM. Yeah, I think I drop enough in a certain period of time to keep the people that support what I do happy. But I definitely don't try to flood the market and flood the blogs on a daily or weekly basis like a lot of artists. It's cool for them but I prefer to do something that I know is gonna be timeless and try to craft something that's gonna be really dope and separate me from everybody else musically. That's why I think I'll be able to do my thing for a minute now because people know I'm consistent and when you see my name on something you know it's gonna be heat because I take my time.

LM. You spend a lot of time touring. Do you travel with your MPC?
BM. No, I tried it before but it never really works because I never have a lot of time to sit in a room and come up with a track. If I do have time to produce something, I'm too tired to do it so I'd rather go to sleep. The iPhone's got the little recorder so if I got an idea I record it or write lyrics so I can put it down when I get back home. I don't really bring the MP with me on the road too much; it's too heavy.

LM. Album of the year was a very personal album. Do you ever find it difficult to perform certain tracks, like Distortion?
BM. It's therapeutic and it feels good to be able to tell that story. That's the part of the show that mellows out a bit and people get to listen and just nod, that's not the real wilding out part of the show. I think that's my favourite part of the show to do, Distortion. I never get tired of performing that song.

LM. Does writing allow you to express specific issues more than producing?
BM. I think Album of the Year was the perfect time, it was the right time to show a different side of my personality and everything is not just beats, beats, beats, rapitty-rap, I got real shit going on in my life that other people can relate to so that's what that was about. Of course Popular Demand and Tronic were two dope albums but Album of the Year took that to the next level because the song writing was more personal, people were able to relate to it more.
LM. What's next for you?
BM. I've been trying to brainstorm where I wanna take the music. I'm not really 100% sure what direction I wanna go in because I get bored kinda easy doing the same old, same old. So I'm trying to figure out what projects I wanna drop that will not only get the fans excited, but will have me exited to work. After Random Axe drops, I plan on doing a few instrumental projects. I'm getting that together now because I never got my beat shit off. I think it's about time, everyone's done it but me: Madlib, Dilla, I think it's the perfect time for me to finally do it. Other than that, I'm gonna do some stuff with Danny, try and knock out this EP. Who knows when I'm gonna feel the urge to do the next solo project? Its kinda up in the air but I know for sure whatever I come with, when I figure out what sound I wanna do, people are gonna love it.
LM. You're quite young compared to your peers. Do you ever feel pressured?
BM. I don't really feel pressured and I'm starting not to feel that young either.
LM. But you're not even 30.
BM. I'm not 30, I'm almost there.

LM. That's still pretty young.
BM. I guess, but we're talking about Hip Hop. If you past 23 then you old. But no, I never feel pressured because I'm in a position where I can do what I want to do creatively so that frees up my mind. Sometimes I put pressure on myself to try to do better than my last project or try to create what I have on my mind at the time. But I let it come natural, especially at this time.

LM. Throughout your career you've got more into live instruments, do you feel that some areas of Hip Hop are moving towards a more organic side?
BM. A little bit, of course you got cats like The Roots and Elzhi's Elmatic was live. Justice League does some live stuff and cats are putting live instrumentation into Hip Hop production. But I don't think its reached a level where its all over the place because you gotta know how to mix both worlds, the drum machine, sampling, then putting live music on top of it. Sometimes it can get crazy if you don't know what you're doing but I'm definitely trying to make what I do with the live instrumentation totally different from what everyone else do. It's not just about bringing in live instrumentation for the sake of it, mixing live music with Hip Hop, it's about bringing another element to take what I've already done to another level. That was the main theme behind Album of the Year, if you stripped the live instrumentation off it people would still feel the beats, but they brought it to another level.

LM. Do you always think about that how the tracks will sound live when you construct them?
BM. Yeah, I do. Album of the Year was tricky because it was beats I had done on the drum machine and then I had the live instruments recorded on top of that. I was like 'Damn, is it gon sound a little too crazy with live music playing on top of live music?' I was kinda trippin', but me and the musicians I work with figured it out, me, Daru, AB and Malik. And the show's been insane so it worked itself out.
LM. Someone at your show said to me tonight that you're like James Brown as a performer because you don't just show up on stage, your performance is almost choreographed.
BM. That's crazy someone would say that because those are the artists I look at when it comes to live performances. I really don't look at a lot of other Hip Hop artists when it comes to putting together a live show, I look at James Brown and old footage from Prince or Sly and the Family Stone, the legends of music. So I can see how someone would get a glimpse of those inspirations. I'm glad someone can see that through the live performance those are the artists that I aspire to be like. Not necessarily like other Hip Hop artists, I wanna be great like Stevie and Marvin, those kind of cats.

LM. Though you're a Hip Hop producer, you've performed at European Jazz festivals. Do you think it's important not to be confined by genre?
BM. In my position, yeah. It's great that a Hip Hop artist can be able to perform at a Jazz festival or a Rock festival and people still appreciate what they do, that's definitely where I'm tryna take it. From the beginning, I didn't wanna be put in a box because I'm a fan of a lot of different styles of music not just Hip Hop. When people try and peg me as being one style or doing one style of music on my first album, I changed it up. I had to change it up on Tronic and then when they thought they knew what I was about on Tronic, I changed it up with Album of the Year. I'm definitely gonna keep switching it, not just to be unpredictable but I have a lot of ideas in my brain that I wanna put out there.

LM. That's a Detroit thing, the music scene is so diverse. You're a product of your city
BM. I guess. Hopefully it will just get bigger and people really see and realise what we're trying to do as musicians, producers and songwriters, it's bigger than Hip Hop. Of course Hip Hop is the foundation but there's so much music out there that you can't just put yourself in a box.
Buy Album Of The Year here.
Interview for SB.TV