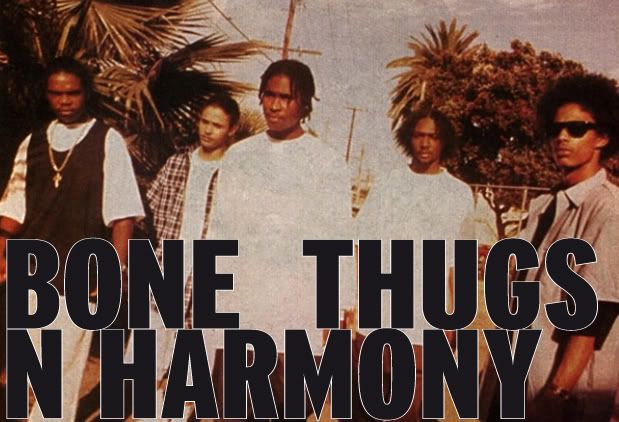 During the London stop of their UK tour last month, Bone Thugs N Harmony's Krayzie Bone and Wish Bone spoke to SBTV's Editor, Lily Mercer, about their influence on grime, which song they'd like to be buried to and who they think was hip hop's first rapper/singer…
LM. You're finally in the UK, what's taken so long?
Wish Bone: Immigration.
Krayzie Bone: [Laughs] Immigration and the promoters.
W: The right time…
K: Yeah, the right time and making sure we with the right people. Honestly we didn't think London had no love for us, we hadn't been asked to come out here in so long. We was like…
W: Is our music even heard over there?
K: But actually now that we here we see how much of an impact it's had and we asking ourselves that same question; why haven't we been over here in so long?
LM. Earlier in the year it was reported you broke up so I thought I'd never get to see you live.
K: To clear that up Bone is always gonna be together. If people call us to come together, there's never a problem between us to form that unity again. People are taking time to do what they wanna do in life but there is no ending to Bone, Bone is forever, trust me.
W: We started our own lane, you hear Bone Thugs influence in all genres of music so its like never will we be gone. We love music, we love doing it.
LM. Being in the UK, you must've come across grime music, which I see BTNH as a direct influence of with double-time rapping.
W: See now that's real. I'm loving this interview; you really being real. Because we were listening to a lot of music and I'm listening to it like, wow. The music we came across is influenced by us but not saying it. And you just said that.
LM. I think you were definitely a catalyst for grime. Grime MCs have reworked your track Thuggish Ruggish Bone.
W: Right. That's a blessing for people to feel our music and use it for something, that what we did it for. We love music.
click to play video
LM. Would you ever do a grime track?
K: Definitely, we open to all.
LM. Are you familiar with any artists in the UK grime scene?
K: Jammer and K. Koke, we're gonna go work with them tonight. One thing everybody needs to understand is, we do have a label. We BTNH, but we [also] The Life Entertainment so we keep it in the mix.
LM. A$AP Rocky is also someone that displays a Bone Thugs influence. Do you see that as a compliment?
W: Always… Well back in the day, I'll keep it real, we were like, "Hey, stop using our style, we need that." But now we're good, we look at it like they respect us. Genres like Eazy E, gangsta and Bone Thugz N Harmony, without us it wouldn't have been that.
LM. Are you recording more material?
K: I have a mixtape that just came out, but we have a lot of things going on. We're celebrating the 20th anniversary of Bone Thugs N Harmony we'll produce a tour with all 5 of us, and an album. Wish Bone is working on a solo album.
W: First one, I been waiting on it.
K: I'm working on my solo album and we have artists we've been working on for our label The Life Entertainment so we gon' be busy for a while.
click to play video
LM. So are you getting some inspiration over here?
W: Yeah, it feel good to come way over here and hear our flows as the inspiration over here. It feels real good; we really touched a lot of people in different countries. Real music is universal. What was the last interview you did?
LM. I interviewed Phife Dawg earlier today. Coincidentally he mentioned you guys.
K: That's wassup.
LM. And before that Mary J. Blige.
K: Wow.
W: Man, that's crazy.
LM. But more about you. When Drake came around people acted like he pioneered singing on a rap track, something BTNH are known for. Between KRS One and Slick Rick, which MC do you think really started the trend of singing and rapping?
W: That's a good one.
K: Honestly, it probably was KRS One because he had the whole Jamaican style.
W: But it wasn't harmonious.
K: But in terms of singing, Slick Rick sang a lot but I think it was KRS One.
W: Really?
K: The first person who was really singing and rapping was KRS One, no one was really doing what he was doing. He didn't sound good singing a lot of 'em.
LM. Neither did Slick Rick though.
W: Biz Markie then.
K: But KRS One came before all them. In terms of artists singing with their raps, KRS One was the first one that I heard. His first album, [sings] "cus girls look so good but their brain is not ready, I don't know." He did all that in the beginning.
click to play video
LM. What made you guys bring in harmonies on your tracks?
K: What it came from was when we used to rap we all knew each others raps so well that while one person was rapping we would all adlib. And as we were doing it, we would sound like we were harmonising and it developed from that until it was a full-fledged harmony.
LM. Was it inspired by your upbringing?
K: It was inspired by all the music we were raised on, Michael Jackson…
W: Marvin Gaye, Gladys Knight & The Pips, The Commodores. When you woke up in the morning on Sundays and your mom playing that good music, Motown.
LM. Cleveland isn't too far from Detroit, the home of Motown.
K: Exactly.
W: It was real close to it so we listened to all of that, it was their era.
LM. In the 90s, you were the only rappers from the Midwest but these days there are several popular MCs from there. Do you think the scene is more enriched now?
K: Definitely.
W: When you bake a cake you get a lot to it. I think we put the batter to the cake and people have added a few things. We came in the game and did what we did and they just added to the cake.
LM. You were adopted by the West coast because of your association with Eazy E.
W: Damn, she got a real interview.
K: Mmmm hmmm.
W: You saying some real things.
LM. A lot of people assume you're also from the West coast.
W: To this day you can't convince a lot of people that we're not. Eazy E did that for us.
click to play video
LM. You brought his son to Australia as your support act on tour.
K: We always had times with his son, he's a cool dude. As an individual he's making sure his father's legacy lives on which we 100% respect, that's why we deal with him because he's a part of the person who helped us achieve our dreams. Its always gon' be love.
W; That's his baby, we're gonna ride with him regardless.
LM. Dizzee Rascal and me both want to have Tha Crossroads played at our funeral. What would you like to be played at yours?
K: I don't wanna die so I haven't thought that far yet. Whatever did happen, what would be more appropriate than that? That's real.
W: What's the question again cus it slipped me.
LM. What song would you have played at your funeral?
W: Oh My God. Are you serious?
LM. Yeah.
W: I think more than the song I would like a situation played at my funeral. Take me home, I don't wanna be at a funeral home, everyone get high around me, some drinks. If it had to be a Bone song, definitely Tha Crossroads.
LM. With the video version, featuring the Hail Mary at the beginning.
K: Exactly, you got to.
W: She knows some real shit she does, I like her. [Laughing]
LM. I'm a geek. What's it like to have recorded songs with both 2Pac and Biggie?
W: I didn't get a chance to do it with Big but that's my n****. Bottom line, it's something that can never be done again. It's a song we can put up on our repertoire, as long as we alive it can represent us. But as far as great rappers go, Eazy E was the greatest.
K: It's definitely a blessing for us to work with these guys who turn out be great legends, just to be in their presence. The way things went down, them two having beef and us still being able to be neutral shows the love they had for us. We did a song with Pac then he died before we did a song with Biggie, but Biggie heard the song we did with Pac and he still wanted to work with us. It shows the love he had for us as artists and as people. He loved our music and respected us enough to come see us even after we did a song with one of his archrivals so that's love alone.
Buy Krayzie Bone's mixtape, The Fixtape Vol. 4: Under The Influence here.
Originally published by SBTV