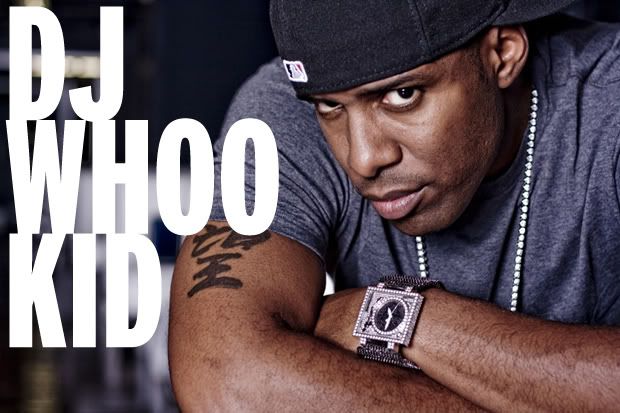 On the eve of his tour of the UK with Wiley, DJ Whoo Kid spoke to SB.TV's editor Lily Mercer about being wanted by the F.B.I., the response to grime in the U.S. and London's reputation for freeing rappers of their jewellery…
LM. Was it hard to find the elusive Wiley?
WK. He actually found me. Live Bass set it up because I needed a fourth genre of music to do a mixtape with and grime was the one I didn't do yet. Wiley came up as top choice and Live Bass put us together. I found out he's already a fan of Whoo Kid, so it came out hot.
LM. You've done two mixtapes together already, can we expect a third to be recorded on tour?
WK. Yeah, we're actually working on stuff now. I think it's going to be straight to iTunes. But we're doing songs with artists; just going in.
LM. You've been working with a lot of UK artists and playing them on US radio. Has it been appreciated over there?
WK. Well the curiosity is there and people are loving the fact that they're linking with other artists and creating either a new sound or acceptability. A lot of people are ignorant to understand why this artist would do a song with this artist, who's like 10,000 miles away – different culture, different accent and different beat style, but it makes sense when you see them come together. Then you can see a lot of artists are being influenced like crazy; Jay-Z, Kanye – the UK sound is just influencing all of them. It's just a growing, organic process, which will crack off eventually. I don't mind being in the history of the molding and the growth. I'm not gonna say its gonna pop off tomorrow but maybe next year it could be like, we're all doing some festival out here and everybody who did songs with whoever is killing the crowds. It's good to create something new.
LM. I heard an American artist say "Grime would never take off because in the US gangstas don't dance." What's your perspective on that?
WK. Man, them damn gangstas be dancing to Soulja Boy.. Come on, they're doing the Dougie. Don't believe the hype. Music is music, it doesn't matter – it's an attitude. Once you see girls dancing and going crazy, you're gonna dance too because you want that girl.
LM. You've done mixtapes with Tinie Tempah, Giggs, Skepta and Wiley. Who else are you looking to collaborate with from the UK?
WK. I'm looking at Chipmunk and Wretch 32 – those are my next two. Doing my homework, I think Wretch 32 will be next. He was promoting his album so the label didn't want him to have free music out there to interact with his promo.
LM. Do you think we could ever see a UK artist signed to G-Unit?
WK. It's possible. I mean, I don't see why not. 50 [Cent] also has G-Note now, so G-Note is open for house and 'out of the box' music. As long as it's something different and it works and makes sense, 50′s ear is open for everything.
LM. Has he been a fan of the grime he's heard from you?
WK. He's done songs which cater to his experience coming out here. 50′s freestyled on some UK beats and he's done UK songs, like London Bitch. He listens to everything when we go to clubs or I play it. I'm more light-speed ahead of understanding the music than 50 but he's aware. But it's good to have that, even with Snoop or anybody else, they're aware where there was no awareness. Then the UK artists stepped it up because now they're traveling to America, because in hip hop you've got to mingle with the elite. I see Tinie Tempah doing his rounds. Giggs came to New York, I was like "-fuck you doin' here!?" It's not about you've got to wait 'til Drake comes here. These guys are already scared to come out to the clubs out here. You guys rob every rapper that comes here, these rappers ain't gonna come to the clubs.
LM. People don't realise how many rappers get robbed in London.
WK. Nah, London's got that aura where if you go to the club and you've got jewellery, you're gonna get jacked. It's a shame what they do to these guys, a lot of them run out the club. So if you have that aura from just the nightclub scene, how do you expect Drake and these other guys – they're not gangsta, obviously – to deal with it? If they don't know nobody here and they're in the club, the first thing is, "Who is this guy and why's he coming near me?" They already eliminated linking up with an artist because they already have this fear. It's not even them being pussy but, "I'm not from here.. so.. I'm not gonna trust nobody." I have a generic sense of not trusting people – but if somewhere like London already has the shit where like twenty-something artists got robbed here already, that's gonna make me like, "Nobody comes in VIP, nobody talks to me, I don't want no demos, I don't want shit." Because this guy ran out, Nas ran, they beat up Dame Dash, Ja Rule's chain is on somebody's daughter's neck.
LM. [Laughs] It's like the Yung Berg thing.
WK. So the gangstas out here, they kinda ruined it for any other rapper that wants to get near them. You really have to know somebody now to get near them and it can't be in a club format. But in America with Tinie Tempah, I call Chris Brown and he comes to the club and they're in the club chopping it up. That's how it's supposed to be, the club is where everybody wanna relax and have a good time. You see how they linked up Tinie and Wiz [Khalifa], Giggs and [Lloyd] Banks, they did songs together because they linked up in the club. But out here, we go to the nightclub and get beat up 'cause they wanna gain their rep where they live. They get more props because they're known for beating up this rapper or they chased a rapper out. That's why I always look like Talib Kweli in the club, no jewellery. I warned every rapper in America; don't act tough, thinking you fuckin' Baby, with 100 G's of jewellery in a club in London 'cause.. that's payday for them.
LM. In an interview with SBTV before, you spoke about getting kidnapped.
WK. Yeah, but that was some hip hop shit, I was kidnapped by Big Pun a long time ago.
LM. So you feel out of that world now?
WK. Yeah I'm out of that shit, I've got kids and stuff like that. Back then I was young, I didn't give a fuck, I was just "whatever, I stole your song, I put it out.." It was like an adrenaline rush. I would have everybody's songs unfinished, different versions, and they'd be looking for me. That's why I'm 'Whoo Kid' – like "who is this kid?" like "what has this guy got my song? I don't even have this version" or "I didn't even leak it" and then when they would catch me. Pun was the only one that caught me and I think N.O.R.E. was looking for me for years, but then I wound up being his DJ, which was kinda funny. I stopped was when I leaked an Eminem record by mistake.
LM. Ah.
WK. Then that was it for me.. FBI was looking for me, all kinds of stupid shit. Those guys got real power, they'll find out who did what… I was hiding in Canada, that's how bad it was.
LM. But everything's cool now 'cause of G-Unit…
WK. I work for Eminem now.. (laughs) It's weird that everybody who was trying to kill me, now I work for or have worked for.
LM. Do you ever look around and see what else is coming up in hip hop?
WK. Right now on my radio show I play all the new stuff – but all the hot new hits. I really don't care – they don't give a fuck about this new artist that nobody's ever heard of. It has to be new Wiz, new Nas or new Jay. If you're a new artist you just have to do your homework and get your popularity, then you find your way to me. Then I'm like "yo I heard about this guy, this guy's hot." Or you could bring me that nice brown paper bag and I'll say you're hot too.
LM. [Laughs] So what do you think of the state of the industry today?
WK. I miss the old days 'cause that's where hip hop was more real and it defined who I was and it made me make choices. Now it's like, everything straight to clubs and you see like 35-year olds dancing to kids stuff. There's nobody teaching anybody and I don't mean you gotta be on some KRS One shit but I got taught by Public Enemy, I got taught by Nas, I got taught by Jay-Z, Biggie, they all taught me shit and they made me think. It was like a renaissance period where people were getting molded into who they were, 'cause a lot of people my age who are successful today, it's because [of] everything from education to music to your lifestyle and who you are. But now that's not around, there's popcorn music. I couldn't tell you what was hot last year or the year before but I could tell you a Rakim verse from 20 years ago.
LM. Are you worried that the next generation are gonna be a bit emo?
WK. If everybody quit and just Drake is rapping, then yeah. Right?
Originally published by SB.TV.