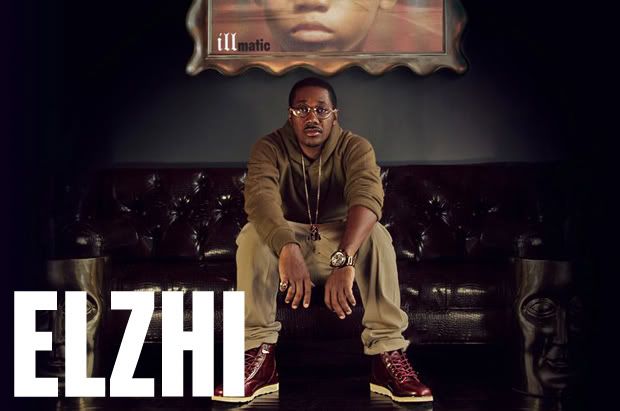 Following the release of Elmatic, his tribute to Nas' classic album, Illmatic, Elzhi talks to SB.TV's Editor In Chief, Lily Mercer, why he chose to pay homage to the album, his friendship with Royce Da 5'9″ and why Detroit produces so many talented rappers…
LM. What made you choose Nas' Illmatic as your inspiration?
E. House Shoes came up with the concept 3 years ago. He came up with the concept because of my name El and Illmatic, put it together and it makes Elmatic. But it means a lot more to me than just a name. Illmatic made me wanna be a better MC and writer so it made sense.
LM. Was it an influential album for you when it was first released in 1993?
E. Illmatic just sparked something in me. A lot of albums did that: Paid In Full, Kool G Rap's album, even Organized Konfusion. But around the time Nas did Illmatic, it made me wanna step my game up.
LM. I can see why you would relate especially due to your storytelling and creativity with words.
E. He's one of the reasons I did go off into storytelling because his pictures were so vivid. When he displayed his rhyme schemes and his word play and his songs, it made me wanna create visual pictures as well.
LM. How much was House Shoes involved with the project?
E. He basically gave me the concept and I ran with it. Then after a while I went to Will Sessions and hooked up with Sam. He felt the vision, we came together and put it together in a month and a half.
LM. What do you think it is about Illmatic that's still relevant 18 years later?
E. Its just classic, from the lyrics that Nas put on the record to the music, there are classic producers on there that went on to shape the era. You had Pete Rock, Primo, Large Professor, Q-Tip, L.E.S, they helped shape a whole era of classic hip hop. Anything from that time frame is classic, it will last in today's time.
LM. The Illmatic instrumentals are some of the most recognisable too.
E. One of the most recognisable is Life's A Bitch. That was crazy because that was the first time anyone ever heard of AZ, he came in the fold and killed it. It was definitely a memorable song on the record.
LM. In the last 3 years a lot of people came out with tributes to Illmatic. Did you put the live spin on it so make sure you stood out?
E. When I put the idea out there 3 years ago, I wasn't ready to complete it because I had a lot of troubles going on behind the scenes. I heard a lot of tributes and at first I wasn't going to do mine but then House Shoes and people online kept asking about it. I thought, if I do it I'm gonna put a twist on it. That's how I came up with the live concept. I reached out to Sam from Will Sessions and we put it together. I'm glad that we decided to do it live because it allowed us to do our own spin. People have been waiting on this for three years and I really wanted to do something special.
LM. How have you feel about the feedback from Elmatic?
E. The response has been great and I appreciate that. I never felt I was trying to out do the original. I wanted to put something out there and pay homage to a great album. I put myself in different verses, took a concept and flipped it the way I wanted to. When House Shoes came up with the idea, I got in the studio and I knocked out a couple of records to the original instrumentals so it was like a mixtape. When the live instrumentation came into play, it was more like an album so my manager as well as House Shoes and Rich Medina were saying I need to call it an album because that's what it is. I was outnumbered so we called it an album.
LM. Do you think Elmatic relates to Illmatic because Detroit could be considered similar to New York in the 90s?
E. I haven't looked at it that deep but it's definitely a struggle in Detroit. It makes people strive harder and push harder to do good things or even be heard, I think Elmatic will be included with a lot of releases coming out of Detroit this year. Hopefully we can come together and move as a force to make some noise this year.
LM. Detroit Hip Hop's been big for decades, but right now there seems to be a buzz about the city.
E. Everybody's stepping their game up. Not only musically, but visually and business wise too. There was a point when you didn't see videos from Detroit artists but we're at a good place where you're seeing videos now. People are more business minded and focused on taking it to the next level.
LM. Does Detroit's music history continue to inspire you?
E. If you come to Detroit and check out the Motown museum, there's a spot in the museum where the artists used to go and play music and they've got pictures of these artists on the walls. You're standing in the same room where Stevie Wonder, Michael Jackson, and Marvin Gaye made music. You can feel this energy; I like to go at least twice a year to get that energy.
LM. What's the history of your collaborations with Royce Da 5'9"?
E. We've got recordings we did at the age of 16 and 17. I've known him through the years and it's always been love with me and him. Not only is he a cool person, he's a cool person to work with and he's very talented. We're supposed to do a project together right now he's got Slaughterhouse and I got things I'm working on.
LM. Rappers often name you both as their favourite rappers.
E. The reason people say that is because in order to truly get what we do, you might have to rap. You might have to sit and write a verse and see how hard it is to rhyme the words that we rhyme. Or do it in a certain mind or rhythm where its on beat but we're not only rhyming one word, we're rhyming three different words in a two bar measure. That's why people may say we're a favourite rapper's favourite rapper because our art form and our craft is so complex but it don't take us that long to do it.
LM. Why does Detroit breed such good rappers?
E. I would say it was The Hip Hop Shop from Detroit Michigan, a place that Maurice Malone owned, hosted by Proof. I wanna say that's what made people sharp because you had Eminem, myself, Royce [Da 5'9"], Guilty [Simpson], Slum [Village], Phat Kat, Obie Trice in there. We all had a sense of pride in our city and wanted it to get better. I would go every Saturday just to hear somebody else on the mic because my peers were that good and it made me wanna step my game up. But even before that I connected with the real music, cats like Rakim, Big L, Kool G Rap, Lord Finesse. Even before The Hip Hop Shop I connected with those people, maybe we just got an ear for what's good.
LM. It's The Hip Hop Shop plus the legends of rap but also; logistically you're influenced by both east coast and west coast.
E. That's true. One of my favourite rappers at the time was Ice Cube and then I was a big fan of Rakim so it's just the combination. Ice Cube is the master of concepts.
LM. Plus it seems like a pretty hard place to perform, Odd Future and Charlie Sheen are recent victims of Detroit audiences
E. Detroit is definitely a hard place. There are some hard places out there. New York is hard and Detroit is hard. Like they will just sit there and look at you if you not doing your thing. They gonna let you know you not good, then gonna boo you. But that's just how New York is. I glad it never happened to me before but I've heard storied of people getting booed and they just sitting there looking at you. As a performer, that's the worst thing that can happen.
LM. What else can we expect from you this year?
E. An album is in the works this year. A lot of people said they're down to work on my album, from Alchemist to Phonte. I'm in the process of working on that right now and making sure it's a masterpiece in my eyes before I give it to the public.
LM. Is there going to be a lot to express on your next album?
E. I'm gonna add everything that I'm about on this next album because some people know me a someone that might spit a hot 16 on someone's record so I've got to add that element, plus I've got to add a personal element for people that know me from my earlier work like Out Of Focus and The Preface, concepts like The Guessing Game and Talking In My Sleep. There are certain people that wanna hear that from me so I'm gonna put it all into a collage and put that into an album. I'm always trying to out do my last album. I'm constantly in battle with myself to put out the best projects I can put out. I might be in the studio having a perfect take but I'll still do that take like 9 or 10 times to see if I can get it better. I'm definitely a perfectionist and it's a gift and a curse.
LM. Dilla was a perfectionist; did you get that from working with him?
E. He inspired me to perfect my craft. Being in the studio watching him make music or record was a magical vibe. There was such a feeling in the studio that I wanna recreate that vibe when I'm working. He knew what he wanted, he went off of the feel and it was just the magic. I don't do beats but people that do them tell me, he does things with the MP that aren't supposed to be done. He created his own way of working on the beat machine. To see him working in the studio was incredible. Dilla gave me my first chance to get on a record, my first paycheck, my first voice, my first look. It means a lot to do a tribute for Dilla. As well as being a real humble guy and us having love for each other like that, I appreciate he wanted me to be a part of his legacy. It only feels right to be a part of his tribute.
LM. Those that worked with him do a really great job of keeping his legacy alive.
E. Every year there's a tribute to Dilla. There might be a tribute in Miami while there's a tribute in London and a tribute in Cali while there's a tribute in Paris. It's amazing to see that he has such an effect on people through the music. It's a blessing that in this day and age where people think music is really driven by money. He's one of the reasons why Black Milk is as good as he is on the beats. Or 14 KT or Denmark Vesey. People all over study Dilla but by him being so close to home for Detroit producers they had a chance to see and be a part of it because there was stuff in Detroit that never leaked out of Detroit. We were supposed to do an album together before he got sick. J Dilla was a different kind of guy. If he wasn't feeling you, he probably wasn't gonna work with you. I'm not saying any names, but a lot of big artists approached Dilla and he wasn't feeling them so he didn't even return their calls. So for him to be feeling me like that, felt good.
Interview for SB.TV