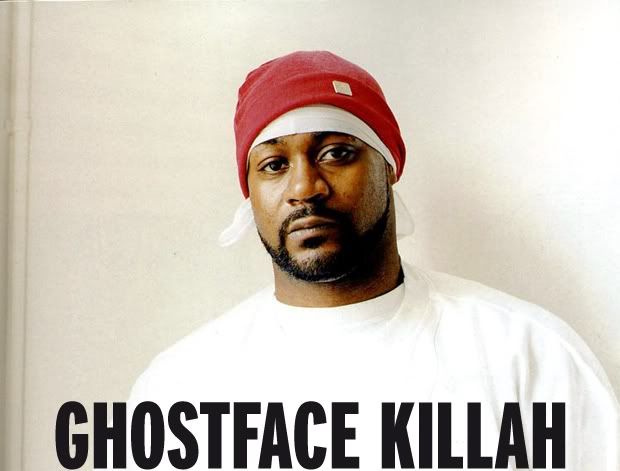 Following his performance at the opening of Supreme's first London store, Ghostface Killah tells SBTV's Editor, Lily Mercer, the most romantic thing a woman's done for him, his six favourite rappers and what to expect from his upcoming projects: DOOMStarks, Wu Block, Supreme Clientele 2 and the new Wu Tang album.
LM. Supreme brought you to London for the opening of their first UK store, how far do you go back with the brand?
GK. I guess as far as Supreme Clientele, my second album, as a lot of people were drawn to that album for whatever reasons, I guess because of the chemistry behind it. One thing led to another and so I came to support Supreme.
LM.You've been in London a lot this year.
GK. Yeah it might be two going on three times, I'm not sure because I did a lot of stuff.
LM. What do you like about performing in London?
GK. You got some real hip hop people in London, I love performing for them. The energy you get off me, that's what I give right back to you, if we feed off each others energy then it's all good, that's where I get a lot of my energy from. It's a cool place, it's like the New York of England, like you were at home but in another place. The pace is good, it ain't too slow. People like to party and have fun and that's what I like.
LM. You're performing with MF DOOM at his London show in November. Are you looking forward to that performance?
GK. Yup, yup, yup, DOOM that's my man right there, that's gonna be nice, that gonna be real nice. I can't wait to come back and to do that and keep it moving.
LM. You have a sequence of great collaborations with DOOM. Can we expect the DOOMStarks album from you two?
GK. That's on DOOM. I spoke to him last time I was here cos he stays here, I said 'Yo what you wanna do?' Cos he gotta a lot of records that I gave him. I'm just waiting on him, he's not waiting on me, I'm waiting on him, he's got all the music, he's got everything he's doing the production. I guess whenever he's comfortable and he's ready or whatever, I guess he will call me and be like alright I'm ready now, other than that I'm just waiting on him.
LM. You've recorded Wu Block, an album with Raekwon, Cappadonna, Jadakiss, Styles P and Sheek Louch. Can you tell us what to expect from that?
GK. If you like albums with a theme, a mood and a feeling like [Only Built 4] Cuban Linx, that's what you can get from the Wu Block album. It's a good mood, a good vibe. I don't like giving people anything that's not good. I treat this like food I cooked; I want you to come back for more. This Wu Block album means a lot to me because I picked out a lot of music. Sheek Louch picked out some music, we were the ones that put it together then we got the rest of the brothers on it. If you like real music it's gonna be for you.
LM. A lot of people have been fans of Wu and The Lox individually, so to come together…
GK. With the right promotion, it could be something. If not, then its gonna be on the shelves and people are gonna skip past it and not really know.
LM. Supreme Clientele 2 is pretty much done. With such a classic album, did you feel pressurised when it came to creating Part 2?
GK. No, I didn't let it pressure me cost that's when you mess up a bit. Then again it does put you on point, because you have to be aware of what you're dealing with and what the people might want. I've got the base of it covered already.
LM. How long until it's finished?
GK. I'm just chilling right now cos its basically done… but I'm just doing more, whatever songs I feel that fits me… I'll do more and write more and just see. Cos you gotta put your song in there, see how it sounds all together, OK take this one out put this one in kinda like a puzzle. Until you and your friends can be like, "Oh shit, that shit is murder!" That's it. What we gotta do? We need funny skits, we need the humour, just so the CD is one big nice, "Oh shiiiit!!!"
LM. You're also working on the new Wu Tang album.
GK. Yeah I talked to RZA yesterday so I'ma give him everything I got for the Wu album. That should be for March. RZA just did a movie, so we tryna drop it as the soundtrack for that.
LM. Do you ever think about slowing down?
GK. The next two years are gonna get really hectic, really busy, but I know I just gotta keep droppin' my music; I want maybe four more nice albums then I might start doing some RnB albums and let it go.
LM. Classic soulful RnB?
GK. Classic RnB albums like my Wizard of Poetry album. Start talking about more grown up shit, grown man stuff where it means something. That means when I'm onstage I could have had a nice chair, table, fans blowing, the Supreme Clientele mic, I'm in yellow linen, ya nahmean? You gotta get grown at certain times.
LM. Is there a certain soul tune that you loved so much that you requested a producer sampled it for you?
GK. Yeah, Delfonics on Holla.
LM. Oh yeah, La-La (Means I Love You).
GK. I got a lot of Marvin Gaye stuff that I didn't put out yet. That shit is crazy too, I mean there's a lot, because I love that music more than music released today. I would love to sing along to a lot of it, Teddy Pendergrass' Come Go With Me. I wrote rhymes back then but I never leaked it. I don't even hear the words when I'm listening, cos I just know what I wanna say on it.
LM. I'd like to hear you on I Miss You by Teddy Pendergrass.
GK. Oh yeah, I wrote one to that too 'miss you miss you…' about my friend who's in jail but that's in my old rhyme books. That's the time I was practicing that style back in the Bullet Proof Wallet days, on my third album. Matter of fact it was earlier because I did In The Rain. You heard In The Rain right?
LM. Yeah, The Dramatics.
GK. That was originally on Supreme Clientele but they had to take it off, I guess cos of the sample or maybe I just snuck it in and they didn't count it. I might have just threw it in there and it might not have been in the listings. I was doing it back then before I was even rhyming, but I started before that cos I did Just My Imagination…so that started like 1987, 1988.
LM. You have a way with the ladies, what's the most romantic thing someone has done for you?
GK. I'm not a romantic I just got style. I dunno… I never really looked at it, I always do all the things. One of my girls gave me money one time, and I guess that was it. But other than that I do the romantic stuff.
LM. You're famous for your jewellery; you've got an amazing collection. Can you choose a favourite piece of jewellery that you wear?
GK. It would probably be my eagle and my four-finger ring…it's just too much.
LM. When the fake Ghostface started blogging, people thought it was you insulting rappers and Wiz Khalifa even responded. Do you find it amusing that people think it's you?
GK. Yeah cos he sounds like certain things I might say. But if somebody wrote something about me I probably would say the same thing too. What you gonna do? You can't stop shit. I don't even know who the fuck it is!
LM. You're in my top 10 rapper list, I'm sure it's a really hard question but do you have a top ten rappers of all time? Dead or alive, some MCs that you just respect…
GK. I never looked at my top 10, but I love [Big Daddy] Kane, [Kool] G Rap, Slick Rick, Rakim, I love Nas and even Genius [GZA], I love Genius. Those are like 6.
Interview for SB.TV