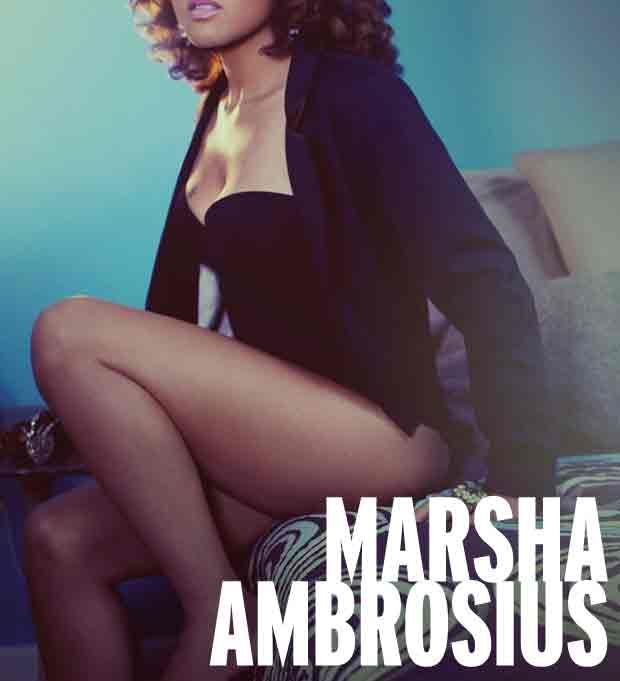 Since Floetry appeared on the scene, the voice of Marsha Ambrosius has taken the world by storm. Following the release of her debut album Late Nights & Early Mornings, Lily Mercer spoke to the British songstress about Michael Jackson, hip hop collaborations and being the 2Pac of soul and RnB…
LM. Will you be coming back to England for the tour?
MA. I was back for Christmas to preview the album there at Dingwalls in Camden. The people there got the first listen, it's only right that I did that in London. There was a nice little performance for those that wanted to hear, but we'll definitely be over there in the summer to do a full band live show, I cant wait.
LM. After years in the industry, it's surprising that Late Nights & Early Mornings is only your debut album.
MA. Other people have wanted me to do a solo project and just assumed that I was doing one. I guess that's why it's been a lot longer for the fans. I didn't sign my deal until December 2009. We recorded the album in the first half of 2010 and now, here we are.
LM. Were any of the songs written during your time at Interscope?
MA. None of the songs at Interscope are a part of the album. Dre approached me while I was still Floetry to do a project. When Nat left the group at the end of 2006, I was content in writing and producing. Then Dre took me under his wing and I was able to do all the featured stuff with Busta Rhymes, The Game, Pussy Cat Dolls under the Interscope umbrella. Being that Interscope has such a big family of artists, I got really comfortable with being in the studio and writing and producing because ultimately, that's my goal; to be Quincy Jones in this thing. People assuming that I'd have a Marsha Ambrosius album under Dr Dre before Detox was ever coming out was a little unrealistic. It was a mutual decision to part ways as far as doing an album together but I still got to write and feature and produce constantly on Interscope stuff. The solo album under Interscope was never a project that came into fruition; it was just hearsay and people expecting it. I hadn't solidified a solo deal until I signed to J Records.
LM. Who is your dream collaborator?
MA. My wish list was always Prince, Stevie [Wonder] and Michael Jackson and in some capacity, I've worked with all three. Wishful thinking has kind of worked out for me up until this point so I have no idea who I want to work with. I'm just thankful that I've worked with great people so far and it's always surprising to see who I'm going to work with next.
LM. Tech N9ne recently mentioned a collaboration between you both plus Eminem and Lil Wayne. When can we expect to hear that?
MA. It probably is, I have a million songs floating around, I've written for many people. There'll be Dre beats or Just Blaze beats that have been sitting there with my hooks on them. For all I know, Tech N9ne heard one of them and said, 'Yeah, I'm gonna get Lil Wayne and Eminem on there' and that might be released tomorrow. That's how most of my features work out. Unless it's a controlled situation where I go in the studio and create with the artist. I have a back catalogue of a million tracks waiting to be heard.
LM. You're like the 2Pac of soul and RnB.
MA. [Laughs] Maybe, I don't know. I just write a lot.
LM. At what point did you begin producing music alongside being a singer/songwriter?
MA. I went to the BRIT School in the Cubase days, any musician will laugh at the word Cubase. I've been songwriting and producing most of my life. My dad was a bass player and always had musical equipment around the house, whether banging on the drum machine, creating songs. I kind of wanted to create the whole album, it was a hobby and I made it into a career. That's been my whole career, just taking it and running with it, like 'That's not working out, let's move on'. I've approached music that way forever. Go for your dreams. If they don't work out, dream bigger.
LM. How did you make the jump from Floetry into a songwriting career?
MA. I guess when you've got one calling card, people reach out to you and I'd built a relationship with many people over the years. One of the first things I did was Bilal's first album then Glenn Lewis' first album, then Michael Jackson.  People were like, 'Who is this person out of nowhere writing for the Michael Jackson album?' People have been waiting their entire lives for that opportunity and people were going insane over this one record, Butterflies. I guess from that point onwards, it opened doors for me to be able to rub shoulders with people I never expected to. I had that window of communication open after that opportunity.
LM. What was it like working with Michael Jackson?
MA. Nothing like you can ever imagine. Its something that I have to take myself back to and say, 'That really happened'. I play the song every now and then just to be sure, like it wasn't just my demo. I didn't even write it for him, he just liked the song. I remember getting that phone call the first time in Philly and it was one of those magic moments. In the studio, we had him for two weeks in New York with his kids chilling with the nanny. We were all a big happy family together there. Then I got to go to LA and mix the song with him in the same studio I later recorded Far Away in. It was very eerie and melancholy. It's just crazy how life works itself out.
LM. With so many achievements under your belt, what's been the proudest moment of your career so far?
MA. The proudest moment was when I heard my six-year-old nephew sing Far Away back to me and claim that I was saying 'Miniature golf'. I had no idea what he was talking about until he sang it to me and said, 'Every miniature golf, I'm missing you' and I was like, 'Well of course I say miniature golf' and he said, 'But in the video the little kids are playing in the playground'. Now my nephew sings my songs, it's amazing.
Buy Late Nights & Early Mornings here.
Interview for SB.TV