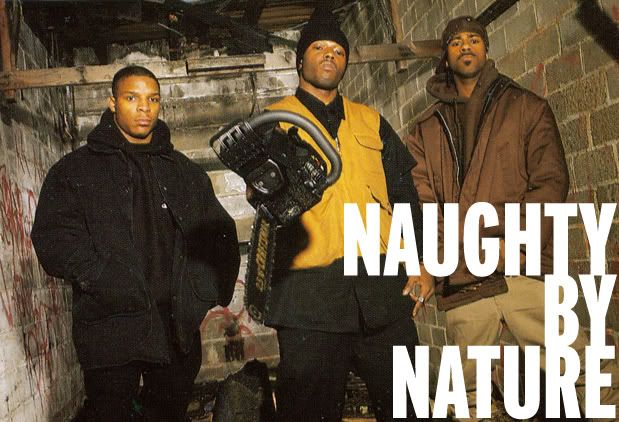 Following the release of their latest album, Anthem, Inc, the classic hip hop trio Naughty By Nature caught up with SB.TV's Editor, Lily Mercer to talk Tupac sex tapes, two decades of tours and pioneering rap clothing lines…
LM. After nearly a decade, what was it like to be back in the studio together?
Vin Rock: It was good energy for old times sake. Kay Gee took a break around 2000, Treach and I kept touring and we put out an album without Kay in 2002. So we were touring ever since and we reunited. The demand is still out there, so it made sense to make a new album. It's just about feeding the brand.
LM. You've toured every year for the past 20 years.
V: Yeah we never stop touring. Never ever.
LM. Is it good to know that after 20 years there's still demand?
V: Absolutely, because it's hard to have that demand for 20 years. Television shows, corner stores, even clothing brands go up and then go out of business. So for us to be around and have demand for 20 years is cool. Now with viral and social media, our demand has increased.
LM. How did you get songs from over two decades ago to match your new music?
Kay Gee: It was just as fun as doing any new record because we had to do it all from scratch. It was not challenging, but fun. Everything was exactly the same from the kick to the snare to the hi-hat. It was fun, especially knowing there was already hits on there. We didn't wanna mess those up. That's the thing that made it fun to do because we knew we had material people already appreciated.
V: With the throwbacks and the new stuff on the same CD you'll see the progression from then up to now.
K: It shows our material from 20 years ago is timeless.
LM. What has made you one of the longest running hip hop groups?
V: I think it's just a testament to professionalism. This is a job to us and you have to count your blessings. You can't be late for stuff or take people for granted. You have to appreciate them more than they appreciate you. Cos there's tons of artists out there and they don't have to pay attention to you at all.
LM. You had the first hip hop clothing line. Did you always intend to experiment with your brand?
K: That's that hustle mentality. We came in with that mentality and applied it to our music.
V: Yeah we were always hands on and self contained with our business. We got with the record label and hooked up with Queen Latifah. We then became more of an asset.
K: We never sat around and waited for somebody to do something for us.
LM. Was it easy to make that step into the clothing market?
V: Definitely, even before we were Naughty By Nature we were a group called The New Style. We used to go over to Queens where Kay's family is from, a guy named Shirt Kings would do the graffiti clothes. Once we turned our name to Naughty By Nature and we had that logo, it was a no brainer. We could do everything and ended up opening a store.
LM. Being from Jersey did you feel you had the duty to stand out against New York rappers?
V: Oh of course. You couldn't do hip hop if you were from Jersey. You go over to New York they will boo you. That just made us go much harder than we already were. We wanted to prove to these guys that Jersey had something to say. We had the talent when it came to rap music.
LM.Jersey has the best female emcees in my eyes. You got Lauren Hill, Queen Latifah, Rah Digga…
V: Exactly! Yeah our girls have heat out there!
LM. Was it a competitive scene?
K: Oh very competitive, there were a lot of different artists, Fugees were around, Redman was around.
V: Lords of the Underground.
K: We would all compete with each other. Flavor Unit was around then.
V: Especially as teens we had Club 88. They used to have the tough team talent competition. We would always win because the crowd judged. We won so many times that they had to have judges. We would go in there with an organised routine and win all the time. That's when we realised 'wow, we actually have something. We should take this to the next level'.
LM. You're famous for creating hip hop anthems. Did you ever expect those songs to become as big as they did?
K: Nah.
V: You never know that about music. When you make the music it feels good to you, you say "you know what I like this record." But you never know how big the record is going to get. The longevity could never be predicted.
LM. You seem to be enjoying yourselves in all your videos. In particular Feel Me Flow.
V: You know how we are. We come from a four square mile radius town and even as The New Style, they all supported us. So we loaded up a city bus and we took everyone from our neighbourhood up to Vermont. They had a ball up there. Some of them had too much of a good time they started destroying the cabins. We also recorded our new video for Perfect Party in Las Vegas, Nevada. That was a lot of fun.
LM. You're also working on a film?
K: Yeah that's the Flags Project that's going to be in conjunction with Flavor Unit – Shakim and Queen Latifah. They gonna executive produce that as a full feature film with us next year.
V: That was the intention, part of us getting back together and doing this album. We definitely wanna keep expanding our brand with more TV and Film. We had the Flags record and we thought if we shot it cinematic style, it would definitely grab peoples' attention cos a lot of cats aren't doing that.
LM. You have been acting professionally almost as long as you have been a recording artist?
Treach: Yeah, since 1991.
LM. Do you think it was good to bring your acting into music?
T: Well I really had no idea it was going to happen, that was just the blessings of Flavor Unit and Queen Latifah. They had me doing my first readings when Queen Latifah was doing a movie called Juice. I actually read from the same part Tupac read for Bishop. He was trained in acting though so he got the role and definitely deserved it. But through his connecting with Flavor Unit he got me a role in the movie. I didn't even have any lines but as soon as I got in the movie I knew this was definitely a path I could go down.
LM. Do you feel that it allows you to show a different side of yourself?
T: Oh definitely, one thing that's most challenging is to play a character that is furthest from you as possible. So the audience don't say "oh look that's Treach doing that role." They look and see me on the streets and call me that characters name. That means that I've done my job. It's a way to get out of your skin and realm into a whole new world.
LM. You have a crazy rate when it comes to writing. Your friend Tupac was famous for that; I wondered if that's something that you shared?
T: Yeah definitely. We freestyled and we wrote together. It's just a creative thing cos you never want to be without your pen and pad, any idea can come and you got so much on your mind, it can slip your mind. That's the worst thing, to either lose rhymes or lose an idea.
LM. Rumours of the Tupac sex tape came out recently. I wondered if you were shocked to hear that at all?
T: Ha ha. here are a few sex tapes out there. I hope none of mine pop up.
Originally published by SB.TV