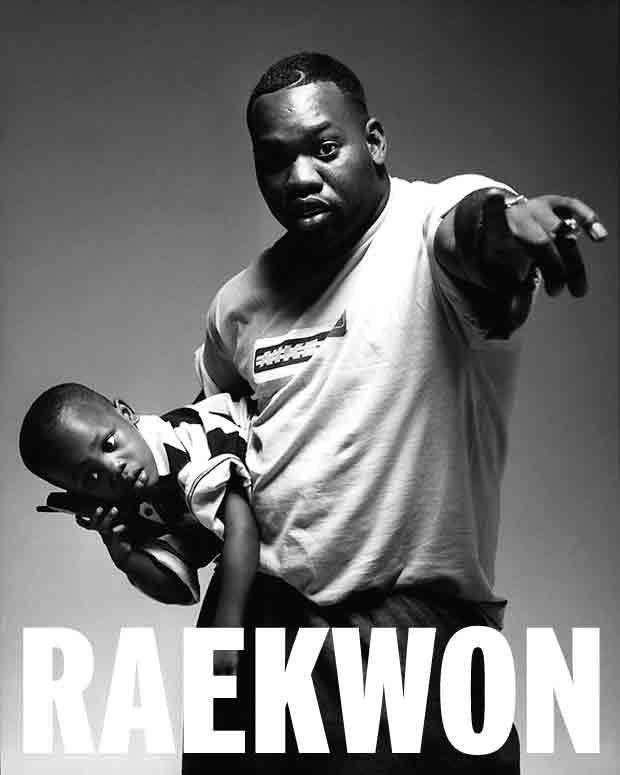 Since Wu Tang Clan's debut in 1993, Raekwon has been regarded as one of the greatest rappers to ever grace the mic. He became one of the first members of the notorious rap group to release a solo album and is still at the top of the game almost two decades into his career. Following the release of his latest album, Shaolin vs. Wu Tang, Lily Mercer spoke to 'The Chef' about beef with Biggie, bulletproof cars and why O.D.B. sang Somewhere Over The Rainbow…
LM. Shaolin vs. Wu Tang was the name of the film that inspired Wu Tang's name. Is your new album a tribute to the film?
R. Definitely, I gotta give my thanks and support to all the karate filmmakers that inspired Wu Tang. This was something that kept us in the house, out of trouble and taught us how to respect ourselves and respect brotherhood and sisterhood. These karate movies would basically what goes on in life. Shout out to the Shaw brothers. They need to put these movies back on TV because it would really take kids minds off certain reality shows.
LM. Because it was all about self-defense rather than violence.
R. Yeah, being strong, loving your family, loyalty, revenge. If something happens to a friend of yours, you may feel like you wanna help them because that's where your heart's at; I was able to learn that through watching various karate films. Plus they had crazy kung fu style, you'd be like, 'Wow, did you see what he did? He just dived and jumped over the end'. We loved all that stuff coming up as kids.
LM. Your music displays a cinematic quality. Is that because of your love for good films?
R. From watching Scarface back in the day to the karate films, I love to sit down and watch movies. We'd smoke our little weed up at one of the homeboy's houses and just sit all day and watch these movies, not getting caught up in what was going on outside.
LM. What made you choose the artists that are featured on the album?
R. It came out of love and respect. A lot of cats I've built relationships with wanted to support me on this album. We wanted to go back to that 90s style, but I wanted it to be invigorating for today as well. I felt like the songs were fitting to the artists on the album. I wanted to make this album a classic Wu Tang sound, with a twist of something different and refreshing. One of the big highlights on the album is Estelle, representing the UK. Her voice is beautiful and she came through for me, she did it out of love, she didn't do it for nothing. She was like, 'Yo, I love y'all, you're my dudes'. That made me feel good, to know that all kinds of people of different genres could relate to Wu Tang Clan. I had to sit down and think about what I wanted and how to do it right. It was fun to see it happen and come out right. It wasn't put together in a cheesy way. Whoever we got on the album, it worked perfectly. It's good to get a Wu Tang album and then be like, 'Wow, they got this on? I always wanted to hear Raekwon with…'
LM. Diplomatically, you chose not to feature the RZA on this album. Was that in order to bring a fresh style to it?
R. When you've been in the game for a long time you wanna try and give people what they know you for, but you also wanna give them a shock. I know that this album has done that because of the massive response we got through the collaborations. The record I got with Jim Jones is taking the States by storm right now. It's making me a stronger artist because I'm back where I need to be, other than just sitting here and being known as a legend. It's cool to be a legend but you still gotta be involved in today's world too.
LM. Why do you think hip hop fans globally identify with Wu Tang so much?
R. We became this cultural rap group that expanded all over the world. It really surprised me because that was something we never thought would happen. Being that we are so big, it just allowed us to recognise our power in a great way and put it into the music. We are the definition of real hip hop. I'm the type of dude that even though I got money, if I like this outfit, I might wear it two days in a row because that's how I am. We just happen to be one of the grounded crews that really understand hip hop and fans see that. They can feel it in the music and they feel so close to what's real. When they see us all on stage it becomes magical. The music has made me the man I am today but whatever I learnt, I learnt it from the streets. I don't have no degree, no diplomas, but I know my hip hop so good that it made me a better man today.
LM. Does it annoy you when people instigate beef between you all as a group?
R. It pisses me off because at the end of the day, we're brothers and we're gonna go through things, but sometimes people try and make it more than it really is. They wanna know what's going on and there's nothing wrong with that, but it's never so serious that we're warring. It's just a war of words and emotions usually. But you can't get into everybody's way of thinking, you have to be like, 'That's his opinion' or 'That's her opinion'. For me it gets a little frustrating, but I know the truth. I know at the end of the day, we're still family regardless. We still go on tour together but we don't always gotta agree and that's where the problems come in, because we don't always agree like we used to. Maybe it's because of the fame, the fortune, the glitter, the gold, whatever you wanna call it. I think its normal; we ain't no different from Earth, Wind & Fire.
LM. Clear up a few rumours for me. I once read that at a showcase at the start of Wu Tang's career, O.D.B. sang Somewhere Over The Rainbow to reassure the intimidated audience?
R. [Sings Somewhere Over The Rainbow] Yeah, it's true. He was always the type of dude where if it was too quiet, he'd come in, say something crazy and have everybody laughing. When everything was boring, he knew to become a joker. That was always Dirty's thing; he would make us laugh even if he was mad. He was crazy but you gotta love him. Rest in peace.
LM. Did Wu Tang once own a bulletproof car, which went on to be owned by a former President?
R. We had a truck that was bulletproof. I think it was given to us by someone on RZA's side that wanted us to have it. But I never had a bulletproof car, I wish I did. I don't know about it getting into the President's hands though.
LM. Growing up during the crack epidemic had a great influence on your lyrics.
R. The crack epidemic was big. It wasn't only a high for broke people to be down off. It was also a rich person's high too with cocaine. You got people that don't like weed but still do cocaine because it makes them feel the same kind of way. For us it was them glory years, we've been through so much. When you can reflect on your life and say 'Damn, I've been from here to there and did this and did that, made it and it turned me into a better person', then you learn to respect it a bit more. Everything always goes back to my childhood life. That's something I'll never forget or act like I'm not proud of. Regardless of what, it made me a better person; I didn't fall off. I look at it as something that reflects your past. If you don't know your past, you might not know where you're going. Now you couldn't get me dead to be next to anybody that's even doing that stuff, like 'Get that shit away from me'. To each his own, but to me it's the yesteryears. We used to have so much fun doing that shit, like bugging out, mixing crack with weed. After that, 'Let's go shopping', we were high as hell on the train. It's just something that was a phase for me back then, that's all.
LM. You team up with Ghostface Killah on every album. What's your relationship like?
R. That's my brother, he's got a heart of gold and the same humbleness. We love great music and share the same kind of style when it comes to emceeing. Ghost will tell you in a minute, 'Yo Rae, I wasn't rhyming like this till I met you'. I look at it like we came together and we fed off each other, but he'll tell you, 'I got my style from you'. I think its because we share the same life stories and are able to relate to one another. We like the same clothes, the same early 80s music, we're just similar.
LM. You've collaborated with Yelawolf and voiced your support of Curren$y. What do you think of the new generation of rappers?
R. I definitely like Yelawolf, I think he's a great MC with a different style. Of course Kanye's doing his thing, I like Drake, he's dominating the radio right now. I like Nicki Minaj and her style. She showed a lot of people she can be a better MC.
LM. You've worked with Justin Bieber, are you open to experimenting with all genres of music?
R. Yeah, I think as an artist you wanna go down in history as one that put his talents together on everything that could be a good record. When you think of records like Luther Vandross and Gregory Hines; Gregory Hines never had an album, he was an actor but him and Luther made a hot record. You always wanna challenge yourself with new styles of music. I'm always up for challenging myself but if it don't sound good, I wont try it.
LM. Recently someone in the press brought up the beef you and Ghostface had with Biggie. How did you feel about that?
R. We was young back then and we were all at our best. At that time it was just friendly competition. There were a few harsh words, but we had love for Biggie because he was working with Method Man. We was working with Puff [Daddy], Mary J. Blige and 'em making records. We were the shit back then. Of course it's like Burger King challenging McDonalds; it's friendly, but it was still what it was. At the end of the day, we were able to put that down, be men about the situation and move on. It never got out of hand and that was the best thing about it.
Buy Shaolin vs. Wu Tang here.
Interview for SB.TV