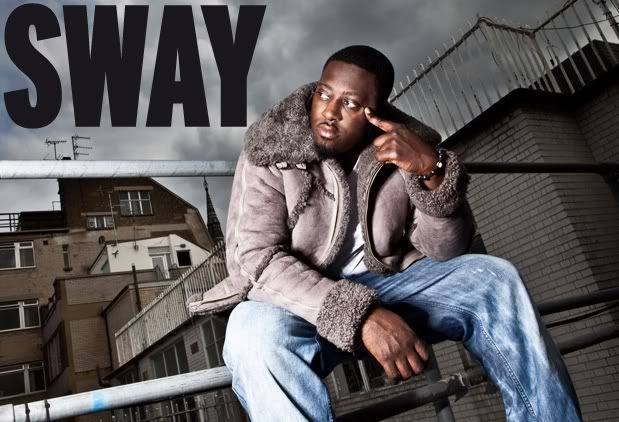 He's beat the likes of 50 Cent and The Game to awards, recently turned his hand to acting and is now finishing off his third album, SB.TV's Editor, Lily Mercer, caught up with Sway to talk working with Kano and Lupe Fiasco, The Deliverance and losing his fingers in Top Boy…
LM. Your new track Still Speedin' has received great support from everyone from Zane Lowe to Lewis Hamilton…
I'm overwhelmed by the response. It's crazy. The second album phase was great because I'd reached a certain level but I wasn't ready in terms of the machine. I had a great distribution set up but I wasn't signed to a record label. So where I was affiliated with artists like Akon, the expectations for Sway had risen, so even a moderate success wouldn't have been good enough. And this was before the whole urban explosion thing when it was harder to get an urban hit because there wasn't much radio support. The place where I was in my element the most was recording tracks like Up Your Speed, so I wanted to pick up from that same energy with this new campaign and I wanted to do Still Speedin' as a continuation of that energy.
LM. Were you surprised by the radio support?
I thought radio's not gonna play it cus the pace I'm rapping at in the third verse is gonna be put down as intangible lyrics but I don't mind cus I feel this spiritually, I'm comfortable here. Then Twin B made it record of the week on 1xtra and I was like, thumbs up, radio playing it. Then Zane Lowe made it record of the week, Mista Jam played it, Semtex played it. Then Annie Nightingale played it, then it was Huw Stephens record of the week and then I was like, this is getting quite scary. I wasn't anticipating a chart position with this record, we just threw it out there and not only has it achieved the aim of galvanizing my fan base and bringing people that are into Sway back to the forefront and to their attention again.
LM. It's interesting the remix was your first track with Kano.
Yeah, it's strange that we've been in the industry for roughly the same amount of time but we've never collaborated. We never had any problems with each other; it was a mutual respect. We talked about it on set for Top Boy. He didn't get in the studio straight away, cus he was filming but I caught him shopping in Maharishi and was like, "Yes man, you owe me a verse" and he sent it a few days later. I got so much love for Kano. We've got another version of the track with Lupe Fiasco on it to. He's a great friend of mine and he gave me my first appearance on an American record with Lasers and that went number one in the Billboard charts. You don't really get better placement. So when I did Still Speedin', Lupe was a big fan of Up Your Speed, I wondered if he'd do something on this. He was like, "Bro, done."
LM. You've been busy working outside of the UK?
I'm very international with it; I like to transcend genres. A lot of people don't know I was on the last Kaiser Chiefs album and I worked with Madness prior to that. I was out on the Afrobeat scene, I've got hits in Ghana that no one's ever heard. Tracks with guys like Sarkodie, people don't know this stuff cus its all different worlds but I like to skirt through all of it. Hopefully Deliverance will bring all those worlds together. I've had hits in Japan and Australia; Mercedes Benz was a radio hit in Australia. People don't know this stuff and I don't mind if they don't know because I'm in it for the music not the bragging right.
LM. It's very organic, not contrived.
It can't afford to be, there's no need for it to be. I've got nothing to prove, what my music's gonna do is what it's gonna do. I don't feel pressure. People ask me if I feel pressure to chart highly cus my peers and people that came after me have fed off this urban explosion. I tell them no, the only time I feel pressure is when I'm in the studio to make sure I get the best out of me. Sometimes it takes years to connect. You've got Chipmunk who blew up in his early teens, then Jessie J who took ten years. Everyone's path is different but if you're making music that's true to you and always try and outdo yourself and push the boundaries I'm sure it will connect. Consistency is the key.
LM. Did you take the same approach to acting?
Not really. Even though I was only in it for like 4 minutes, I'd describe shooting Top Boy as like a long music video. It wasn't much different to a music video. Four minutes took two days of shooting, a lot of intricacies and a lot of attention to detail. The cast, crew, director were spot on, they allowed me to improvise. The line about symmetry in my hair, that was all improvisation. There were lines written but they were like, "You know what Sway, don't worry about the lines… banter." I made up all that stuff on the spot and it happens to be people are coming up to me in the street talking about symmetry and 'how many fingers am I holding up?'. It was a great experience but I'm an artist, that's my forte. If a good script comes along and I feel I can play that role well and be a part of something great, then I'll consider it but I'm not in a rush to jump into TV. I think Kano has more of a knack for acting as well as music; he can skate between the two very well. I'm more of a music guy.
LM. How did you practice for the finger scene?`
Funnily enough, I was supposed to be screaming but they had to duct tape me cus I told the director I'm not screaming. He was like, "Sway you need to make more noise", I was like, "Listen I'm not gonna make more noise, I have an image as well. I don't mind getting my fingers chopped off but you're not gonna get me screaming so some rapper can make a diss track, its not gonna happen." When we were filming, Kano and Ashley were very cautious of the way they did it cus they didn't wanna offend me but at times the director was like, "Lay into him." It was a real funny experience, it was great working with those guys.
LM. Have you had a big of response from the public to your appearance in Top Boy?
Yeah, I'm getting 'symmetry' more than the fingers though. I might have to call my next album Symmetry. The day after Top Boy aired, I was having a conversation with somebody and their eyes were fixed on my hands. I had to stop and say, "You know it's acting right?" They were like, "Nah, it's cool I was just thinking about something" but I could tell they were thinking: what really happened?
LM. How did you feel when you beat 50 Cent to win the Best Hip Hop award at the MOBOs?
That was a surreal moment because everyone was sitting with the record label and I was sitting with my man dem; I had no label. I had mixtapes out, never had an album out, no real machine. The MOBO, the Mercury [nomination], being the first UK rapper to win a B.E.T. award, it's great. But the guy who invented the wheel didn't invent the Porsche. Now it's time to make my Porsche, the wheel's cool, I've done that. That's in the past. Imagine Jay Z talking about Reasonable Doubt for the rest of his career. For me it's great when people reference my achievements but it's all about The Deliverance, what I'll bring to the table, not what I've brought to the table.
LM. How close is The Deliverance to being finished?
We'd be able to put out an album now if we got a release date. I'll continue to record for it, but the album is pretty much done. I'd love to throw it out their for the fan base but the team and myself feel that the album can reach a wider demographic of people and I don't wanna prematurely release it just for the sake of the people that have been supporting for a long time. I'm sure they can wait a few more months.
Still Speedin' is out now on iTunes. Buy your copy here.
Originally published by SBTV.