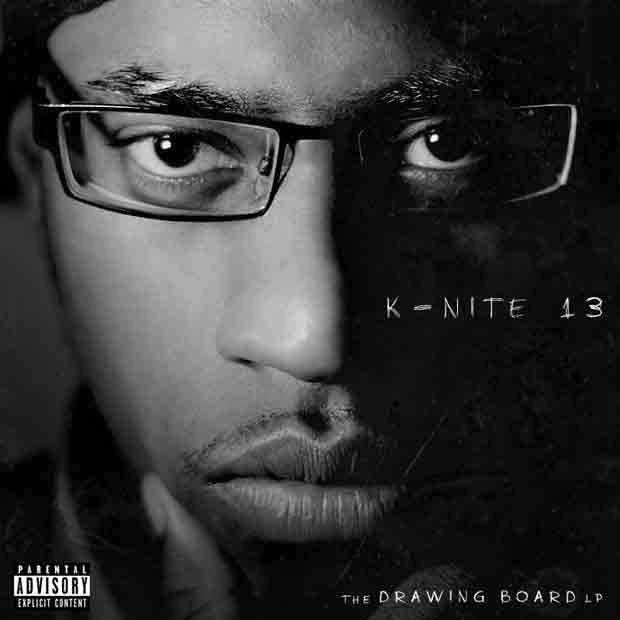 East London's K- Nite 13 is a beast with the beats and a menace on the mic. With The Drawing Board LP, he brings a selection of the UK's finest spitters to the table to produce an impressive debut.
K-Nite 13's level of production is high, with his skilled manipulation of the sampled tracks suggesting an upbringing on 90s hip hop. You may have heard Salute featuring TB, Skillit & Pyro Barz or Angel featuring Skriblah and D'Ablo. Those familiar with the producer/MC's sound will know he works well with Mentalist and Loudmouth Melvin, who both feature. K-Nite 13's track with Scorzayzee really stands out, as the pair trade verses over a beautiful beat.
Salute is definitely one of the album's highpoints. The three rappers are perfectly suited to the beat, with TB's energetic flow and humorous one liners stealing the show, "Man dem are poppin' bricks, s*** I shot mountains." Skillit, Pyro Barz and TB all feature on separate tracks on the LP, allowing them to display their versatility as MCs.
Established artists like Black The Ripper and Scriblah provide a great counterpoint to the mix of up and comers. A lot of listeners will be on the lookout for Zuz Rock based the bars he recites on Back To The Drawing Board. Similarly Jaunty is sure to grab your attention as his growling lyrics on Battle Axe reference old school sportswear over a heavy horn sample.
Cymbals and drums provide a backdrop for K-Nite 13 to grab the mic on Shut It Down. With an M.O.P sample allowing him to bring in Lil Fame and Billy Danze to act as hype men. As a producer K-Nite 13 boasts elements of Lil Fame's own style. As an MC he is fairly unique in his style, occasionally reminiscent of Blak Twang.
Featuring looped soul samples over piano-laced beats, The Drawing Board LP is sure to appeal to fans of UK hip hop. As Pierre explains why he's got next, Tony D takes lighthearted jabs at his rivals. Young Men sees Pyro Barz reflecting on street culture while Miracle Worker addresses gun culture in the UK music scene. Big Cakes dedicates the track to studio gangsters, asking, "when last he bust his gat?"
On a whole, The Drawing Board LP is well structured, something that is hard to achieve when so many artists are featured. Though many of the tracks bear similar styles, the LP does not become repetitive, instead it appears cohesive and complete as an album. After a couple of listens, the LP bears the hallmarks of a potential classic.
Download K-Nite 13's The Drawing Board LP here. You won't regret it.
Originally published by SB.TV