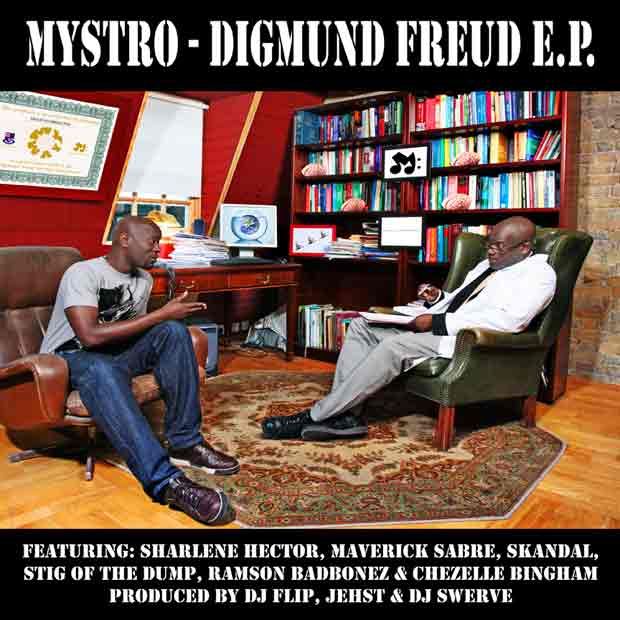 Mys Diggy, known for bringing a touch of comedy to UK Hip Hop, is back with his new EP, Digmund Freud . This time around, he combines his usual humour with serious observations to school people on life's pitfalls. The title of the EP, Digmund Freud is a play on the name of the Austrian psychologist, Sigmund Freud. The songs allow Mystro to delve deep into his own psyche as he examines his surroundings. Digmund Freud EP has been described as "a hip hop therapy session to those in need."
You've probably heard of Mystro before, not only has he been featured in his own F64, he's been a regular feature in the UK Hip hop scene for over a decade now. In the past he has collaborated with big names such as Junior Reid, Masta Ace, Daniel Merriweather, Black Twang, Rodney P and Ty. You could even describe him as your favourite rapper's favourite rapper as he has inspired so many of the artists working today.
Inspired by the "Golden Era" MCs of the late 80s and early 90s, Mystro is a throwback to the times when your lyrics had to be good or the Mic would be ripped from your hands. He began rapping at 13 and went on to build a career in the highly competitive world of UK Hip Hop. The "natural born spitta" was a regular face at the legendary Kung Fu events, where he would regularly perform as well as hosting the show. Proving he is still the host with the most, Mystro can be found investigating everything from monster trucks to ghosts over at spinetv.net.
The first track, Around My Way was produced by DJ Swerve [Kiss FM/Street Fighter riddim] and released as a single earlier this summer. You may have seen the entertaining video of Mystro busking around London. The song paints a picture of Mystro's manor as he describes the scams and shady characters that you can find around his way. It's a London anthem, relatable to most of the gritty corners of the city.
Alongside DJ Swerve Digmund Freud EP features production from DJ Flip and UK Hip Hop legend, Jehst. There is also home grown talent in the shape of rappers Ramson Badbonez, Skandal and Stig of The Dump and singers, Baby Sol, Sharlene Hector and Chezelle Bingham.
Originally published by SB.TV