SBTV's Editor, Lily Mercer, reports from New York's Rock The Bells festival with performances from Nas, Lauryn Hill, Erykah Badu and many more…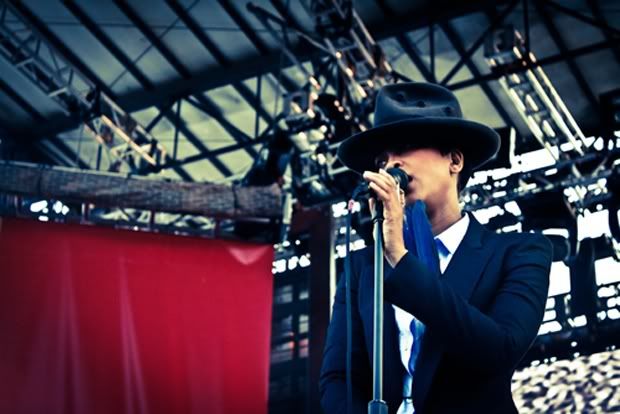 A year after my first trip to Rock The Bells, I embarked on a rap pilgrimage as I returned to Governor's Island armed with a press pass and a mission to blag as many lifts as I could. It started well as my lost puppy expression earned me a ride in a golf buggy to the press area. Then I was off to catch the first main stage performance of the day from Random Axe.
Each year the line up features renowned artists rarely seen in the UK, making Rock The Bells appear too good to be true. The trend continued in 2011 as the festival once again outdid itself with renditions of classic albums including Illmatic, Only Built 4 Cuban Linx, The Miseducation of Lauryn Hill and Enta Da Stage. Surprise appearances at the festival are always impressive and this year was no different as Pras appeared with the Fugees, Alchemist with Mobb Deep and RZA with GZA.
The biggest crowd clustered around the main stage where the line up featured legends such as Nas, Lauryn Hill, Erykah Badu, Cypress Hill, Black Star and Random Axe. Erykah Badu looked flawless as she sang tracks including Love Of My Life and Bag Lady (Remix) while Nas brought out the big guns for his Illmatic set as he opened to NY State Of Mind. AZ appeared for Life's A Bitch, followed by a beat battle between two of hip hop's greatest producers, Pete Rock and DJ Premier; a warm up to their forthcoming album. Next came Main Source and Fatal for 2011's recap of Live At The BBQ, considered to be Nas' first appearance on wax. Since Akinyele was in the house, it was only right he treated the crowd to Put It In Your Mouth, a song I never expected I would ever see live. Next up Nas revisited some of his more recent classics, including Made You Look and Hate Me Now before Ms Lauryn Hill graced the stage once more for If I Ruled The World.
The festival boasted an additional platform to last year in honour of Wu Tang Clan, the 36 Chambers stage hosted by RZA. In addition to performances from members, Raekwon & Ghostface, GZA and Masta Killa, there were sets from Black Moon, Mobb Deep, Roc Marciano, Childish Gambino and Killah Priest. Those that prefer hip hop with a rugged and raw sound camped out here, where Black Moon's live band stole the show. Smif N Wessun's Steele & Tek made a surprise appearance with the latter carried on stage on a guy's shoulders. After throwing himself into the crowd, Steele recited his verse on Bucktown as he was carried across the audience. Rae & Ghost demonstrated why theirs is regarded as one of rap's greatest friendships as they went back to back over tracks from Rae's debut album. Alchemist was on the decks for Mobb Deep and even jumped onto the mic for Hold You Down as I watched from the side of the stage. It was Prodigy's first big scale New York performance since his release from jail earlier this year.
The Paid Dues stage featured a mix of up and comers and underground names including Evidence, Freddie Gibbs, Fashawn, Blu & Exile, Souls Of Mischief, Big K.R.I.T, Slaughterhouse and Immortal Technique. Statik Selektah was DJ for Freddie Gibbs so it was no surprise when Termanology jumped on stage for one song. Hours before his set with Mobb Deep, Alchemist popped up to surprise the crowd that appeared to see Evidence's show.
Rock The Bells is undoubtedly the greatest hip hop festival in the world, as it provides an opportunity to see some of the artists that have shaped the genre, alongside the next generation of rappers. Representing rap, from backpack to gangsta, all elements are covered in just one day of performances. It's a festival many return to year in, year out.
To find out more about Rock The Bells, click here.
Photo by Felix Quine.