Popping pills, blazing blunts and seducing strangers, welcome to XXX…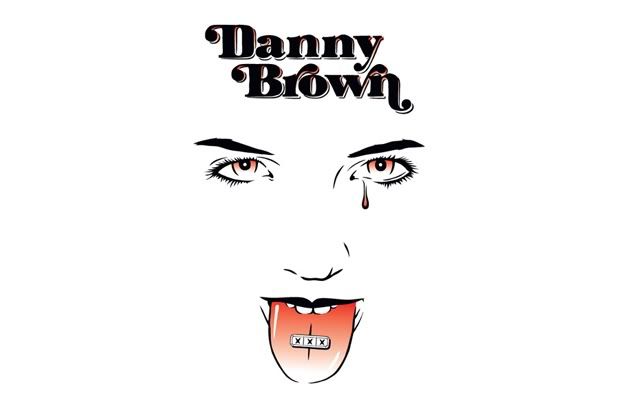 The album title represents Brown's age in Roman numerals, but could very easily stand for the sexually explicit themes or even the ecstasy references, both of which regularly feature in his music. If you know Danny Brown, you'll know what to expect from the Detroit lyricist and XXX is the perfect representation of his work.
Danny's writing brings visuals to life but it ain't always pretty. As he says himself on Outer Space, "when I paint pictures, I'm dipping brushes in war paint." His work is cinematic and the title track, XXX, is the trailer.
Drugs, sex and alcohol are great tools to block out trials and tribulations, making XXX the perfect soundtrack to life. DNA is an honest look into genetic addiction as Brown conjures tales of debaucherous parties. The opening line, 'Waking up drooling on Versace pillowcases" bears similarities to a lyric on the rapper's earlier mixtape, Hot Soup; "Up early knocking roaches off my toothbrush," showing the transition of Danny's lyrics. But it's not literal; it just shows the steps he has taken away from writing about his personal life, what he refers to on Pac Blood as, 'shit so personal, my mum can't listen to'. Instead he has delved further into the conceptual side of his lyrics, preferring to discuss his love for Adderall and sex over the struggles of his childhood, which shaped his earlier material.
By viewing Danny Brown as an author, the city of Detroit becomes a main character. Songs on the album paint alternative portraits of the city. Detroit 187 compares his deadly verbal skills to his birthplace as he spits, 'Detroit 187 is all you see on TV and I can first degree this beat, kill a n**** no charges'. EWNESW is an upbeat track with shout outs to his city but the lyrics explain the harsh realities of growing up there. Fields addresses the current state of Detroit while reminiscing about his negative experiences there. With a chorus of, "Where I live, it was house field field, field field house," a result of abandoned houses being burnt down to the ground, leaving only a field in their place. Scrap Or Die is slyly genius as Brown flips Young Jeezy's Trap Or Die into an anthem about scrapping houses.
There's a reason why Brown says 'style' and not 'swag'. He's a grown up. The average rapper peaks in his early twenties, a time when he's full of confidence but not wisdom. Imagine if instead he spent nearly a decade honing his craft and educating himself as a wordsmith, the references would mature and the materialism would become more thought out. Brown displays intelligence on Pac Blood, as he cites authors and artists few of his peers would mention, such as the philosophical Jungle Book author Rudyard, "Spittin' like Kipling, with a tooth missing." He also references authors like Charles Bukowski and Maya Angelou.
Die Like A Rockstar name checks rock stars, artists and actors from Keith Moon to Basquiat to Heath Ledger as Brown predicts his future cause of death. The track features a grimier sound demonstrating his love for the UK music scene. Radio Song, like Ed Sheeran and JME's Radio mocks the state of the music industry, claiming you'll never get a record deal without selling out. Radio Song features a one liner so good, it's a shock it hasn't been used before: "That's why it's called commercial/Because you need a jingle." Using self-deprecating lyrics to mock others, Lie4 pokes fun at rappers that brag about possessions they don't own, with Brown joking he's 'got that income tax swag'. Monopoly sees him display his lyrical prowess as he makes boastful claims like, "I'm Ferris Bueller with Franck Mullers" between saddening social observations.
Frequent odes to receiving oral saw Brown labelled a misogynist, so I Will allows Danny to demonstrate his giving nature. Describing the track as sexually explicit is an understatement, but it's also catchy as fuck. While women feature heavily, drugs are the stars of XXX. Weed is Brown's main chick but Adderall makes that love affair a ménage à trois. The middle of the album takes a trip into an alternate reality with Blunt After Blunt leading into Outer Space and Adderall Admiral. The following tracks, Nosebleeds and Party All The Time, look at the negative side of drug addiction through stories of women using drugs and sex to avoid their problems. The album, pronounced "30″ features production courtesy of Brown's Detroit collaborators skywlkr, Quelle, Nick Speed and DJ House Shoes plus Oakland's Squadda Bambino, Chicago's Brandun DeShay, Canada's Frank Dukes and London's Paul White. Features are reserved for Brown's hometown peers, Dopehead and Chips Dinero, who appear on Bruiser Brigade and Detroit 187.
Danny Brown is funnier than the average comedian but don't take his music as light-hearted humour. The album opener, XXX, highlights the passion in his voice. 30, the album closer shows the hunger he possesses as he reflects on the last ten years with such clear determination that you understand how important it is for him to finally be heard. Brown's not in this for fame or money, he's here to change the game. Style.
Download XXX here.
Originally published by SB.TV August 2011.