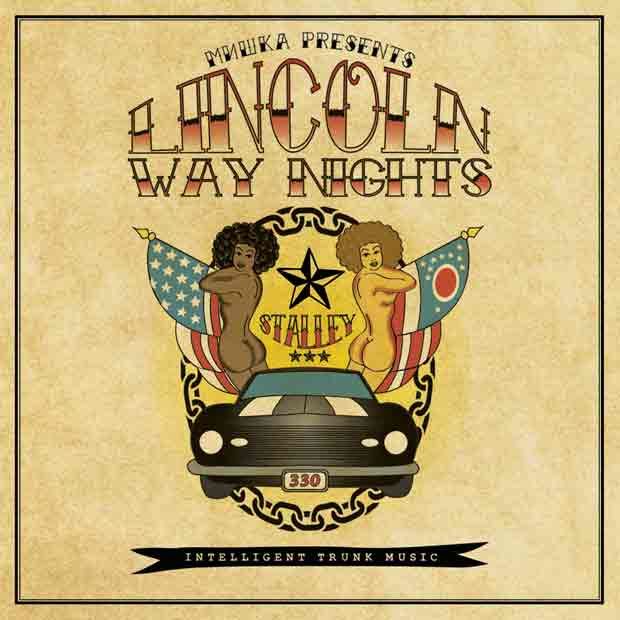 On his latest mixtape, Lincoln Way Nights (Intelligent Trunk Music), Stalley takes us on a journey to his hometown of Massillon, Ohio…
With smooth production and poetic lyrics, Lincoln Way Nights (Intelligent Trunk Music) is the ideal follow up to Stalley's MadStalley: The Autobiography. Where The Autobiography introduced listeners to his mind, LWN (ITM) provides insight into his lifestyle and surroundings back in Massillon.
His Ohio home is a blue-collar place where cars bring added excitement to small-town life. With muscle car culture a heavy influence, it makes sense that Stalley created a classic mixtape to drive to. Upbeat tracks likeSlapp, The Sound of Silence and She Hates The Bass celebrate the car culture in his hometown, while Tell Montez I Love Her shows the rapper address difficult subjects including the breakdown of family relations. Stalley effortlessly radiates wisdom through his lyrics giving his sound a timeless quality.
Stalley has been catching the eye of some of hip hop's harshest critics over the last year and 2011 is already looking like it will be a big one for him. It's hard to pick a track that lets the album down and overall it's a solid mixtape. My only criticism would be that one of the tracks released in the lead up to the release, The Tune Up, is not included.
Produced in collaboration with fashion brand, Mishka, LWN (ITM) boasts impressive lyrics free of glamour and fraudulent claims. Heavy brass sounds and soulful vocals merge well with conscious subject matter to reflect a 70s soul meets 90s rap kind of vibe. With elements of Nas in his lyrical style, he pays homage to the Queensbridge MC in the opening track as he spits, "I rap for listeners, blunt heads, fly ladies and prisoners." Taking another leaf from Nas, Stalley shows corny rappers how it's done as his lyrics on Milq n' Honey appeal to female listeners without coming across as cheesy. While a Fatman Scoop sample on Go On brings some humour to the mixtape.
LWN (ITM) is a classic sounding mixtape thanks to the gentle soul samples and heavy bass lines. A week after it's release, it has a freshness that many struggle to maintain. Its cohesiveness is in part thanks to Rashad who produced it entirely as well as singing the hook on several tracks. The only other feature on the album comes from guitarist John Mayer on Assassin. With a sample from UGK legend, Pimp C, Monkey Ish addresses the state of hip hop and those that are making a mockery of the music and it's history.
Saying Stalley is bringing intelligence back to hip hop would incorrectly suggest that the genre is lacking in any. But by taking influence from a diverse range of influences, Stalley is bringing something new to the game. He says it best with a lyric on Slapp, "I am classic and old skool, mixed with new skool." His music combines old skool lyricism with a new skool sound to produce something timeless.
Download Lincoln Way Nights (Intelligent Trunk Music) for free here.
Originally published by SB.TV