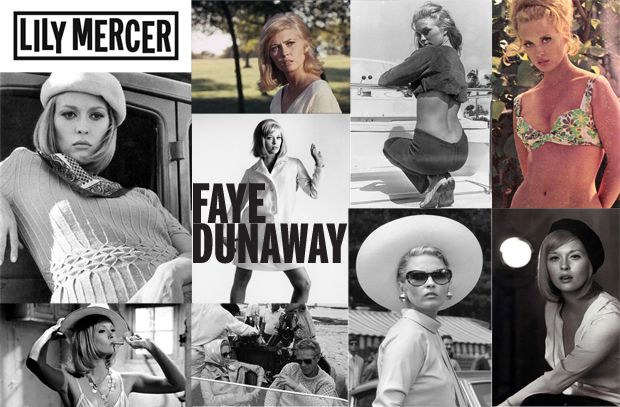 "I'm right in style."
Faye Dunaway, one of Hollywood's unforgettable luminaries, stars as this week's Style Icon. Beautiful, poised, striking, confident and spirited, the adjectives are endless when studying Dunaway's style both on and off-screen.
Famed perhaps most notably for her role in the 1967 film, Bonnie and Clyde, accents such as Dunaway's signature bob cut and beret have lived on, cropping up especially when the spotlight has shone on '30s fashion in current trends.
Dunaway's beret-wearing was special. Cocked to the side or positioned head-on, she exuded grace, yet bold stylistic attitude. Women at the time reportedly rushed to stores for their own berets in an effort to emulate the Southern star's flair. On the release of the film in 1967, Dunaway arrived at the film's London premiere to see the city's stylish females dressed exactly alike her character, Bonnie. This lady sure knew how to rock a hat. Whether it was the berets seen in and around the time of Bonnie and Clyde, a classic Panama or a wide-brimmed hat; her outfits could often be seen topped off with a chic fit.
A defining characteristic of Faye Dunaway's style is it's transcendental quality. She carried herself in a manner that eclipsed the clothes she wore. Partial to classic silhouettes, including a return to the midi and pencil tailored skirts, knitted sweaters, cardigans paired with sophisticated printed silk scarves and high-necked blouses. Miss Faye loved a good all white ensemble and was papped countless times on the red carpet in bright white gowns or trouser suits.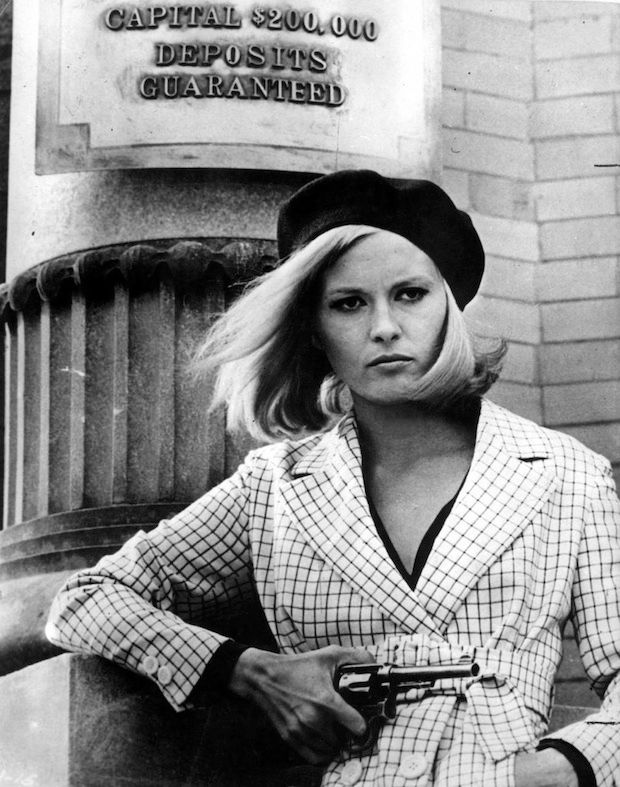 Going on to win an Academy Award for her performance in The Network, Faye's subtle style impetus neither wavered nor lessened. She was quoted as saying, "Well, softness and femininity like yours people don't expect of me…", which comes as a surprise considering the ladylike silhouettes she stepped out in – though she was clearly a lover of the stronger, statement suit.
Straddling the line between minimalistic elegance and the more elaborate end of the spectrum, Faye's fashion choices came across as effortless and naturally put-together. Fond of a good low neckline, which she always managed to carry off classily, Faye subscribed to fashionable textures of the time in a low-key way, rocking furs, frills, embellished silks and all-leather ensembles to her taste.
"I've been identified with Zelda Fitzgerald. This I'll go along with. I love her boldness."
We cannot celebrate Faye Dunaway's style without admiring her immaculately coiffed hair. Usually selecting either blonde or rich brunette tresses, whether it was her lustrous blonde bob and side swept style of the '60s, her memorable up-dos or even her ability to do long locks just as well, Faye's hair choices complemented her polished look. A distinct part of her allure was no doubt her beauty choices. From her understated natural palette and nude lips, face-framing brows and gorgeous lashes and iconic winged liner.
At 72 years old Faye's style confidence remains, despite what critics have said about her recent style choices, her style influence continues to resound in contemporary trends.
"I mean, I was always interested in people like Lenny Bruce, people who are breaking the old rules and making new ones."
Words by Laura Arowolo
Previously: Cam'ron.